The food is always at the heart of everyone. Whenever we think about food, the first name that comes to our mind is Sanjeev Kapoor. Isn't it? The superstar of Bollywood is Shahrukh Khan. But when we talk about cooking then no one competes with Sanjeev Kapoor. I think you all will agree with me on this. Don't you?? You all have known him as an Indian celebrity chef, an entrepreneur and the master of cooking. A man who is the owner of numerous restaurants worldwide and probably the most popular Indian chef around. Yor are going to read Sanjeev Kapoor love story.
A man who revolutionized the idea of cooking and took it to the new level. The host of the famous cookery show 'Khana Khazana' is none other than the great Sanjeev Kapoor.
Did you know, the man who is the king of millions of heart, loses his heart for a girl? Let's open the chapter of love of Sanjeev Kapoor to know everything about his love story, full of spices.
Sanjeev Kapoor and Alyona first met in the train
Sanjeev, a mirthful man born to a Punjabi family on April 10, 1964 in Ambala, Haryana. Alyona, a cute girl born on 1967 in Mumbai, Maharastra.
Sanjeev met Alyona through his elder sister named Vandana. Vandana, who was supposed to be Sanjeev's colleague.
It's because of Vandana who acted as a mediator behind Sanjeev and Alyona first meeting.
Also Read: Love Story Of Sandeep Maheshwari
Sanjeev and Vandana were a co-worker at the ITDC Hotel in Delhi. Coincidentally, at that very time, Alyona was working nearby.
On her vacation she decided to visit Vandana's house. On Alyona's trip to Vandana's home, she happened to meet Sanjeev for the first time in the same train.
This is how their love life began.
Sanjeev  Fall In Love With Alyona
From the first day of their meeting itself, Sanjeev started falling for Alyona. Slowly, they got to know each other better and started to meet more often.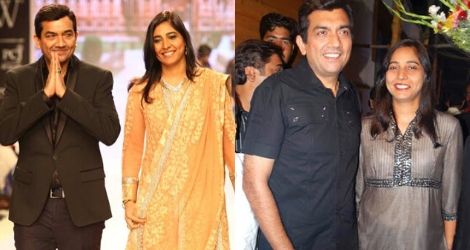 As the time passed, the two of them developed more closeness towards each other and started having an affair. The negligible age difference makes a strong bond between the couple.
Well, nobody can deny the fact that Sanjeev and Alyona were destined to be together. Did you know.. the couple dated for 4 years before they got married?
Sanjeev & Alyona Wedding Bells
Love of Sanjeev and Alyona is very amazing as they are very much fond of each other. Sanjeev has no idea of proposing her. But the time goes off and he dared to ask the parent's of beloved for her hand for marriage.
The cute couple tied the knot on October 1992. The couple shares a very special bond with each other.
Married life of Sanjeev And Alyona
Alyona considers herself as a fortunate wife to have Sanjeev as her better half. The couple is gifted with two adorable daughters. Rachita, the elder daughter and Kriti, the younger one.
Sanjeev considered his daughters as his lucky charm and calls them as 'Goddesses of Money'.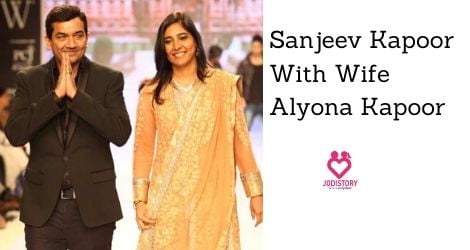 Also Read: Arijit Singh Love Story: A Romantic Melody Of Hearts
A successful marriage is a mixture of trust, understanding, patience, faith and heaps of love. The couple has truely justifies the statement by reflecting all these things in their marriage.
Sanjeev's Career
Sanjeev was always a trendsetter in his industry. The nature of doing small things in a great way make him different from others. He had a supporting family background towards him.
His parents encouraged him to do what others don't even think of. He reached at the top very early in his career.
You would be delighted to know Sanjeev Kapoor restaurants in India with a brand name Yellow chillies. He has also so many restaurants in Dubai named Melia.
He has been awarded as Best Executive Chef of India by H & FS. He is the most celebrated face of Indian Cuisine.
Sanjeev And Alyona: Made For Each Other
Together, the couple have been able to prove the entire world that Sanjeev is not just a man with magical hands. But a man, who has a magical heart too.
The best thing between the couple is that they both love each other as they are. Sanjeev feels lucky to have lady love, Alyona as his better half.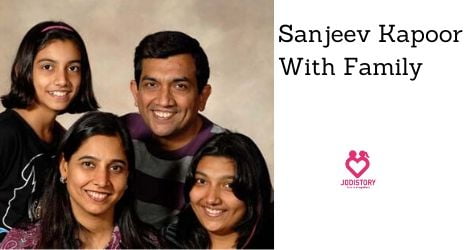 It's being 25 years of romatic life he is leading. The togetherness of the couple makes them an ideal couple.
It's true that "Love is our true destiny. We do not find the meaning of life by ourselves alone, we find it with another.
We wish the love birds to be happy and together forever and ever..!!