Marriages are made in heaven, but love happens in this very world. This is exactly what happened to the youngest and the most cutest couple of Bollywood. Riteish and Genelia, two bodies one soul. Genelia Dsouza & Ritesh Deshmukh love story has restored our faith in love in today's time.
We all believe that some stories are meant to be forever. The love story of Riteish and Genelia is one such story. We are in an era, where people are drifting apart from each other with every passing day. But being in the same era, the couple have set an example which proves that "Love conquers all". I am quiet sure, you all must be very curious to know about their love journey. Don't you??
Must-Read Love Story
So, without waiting further, let's know everything about the heart warming love story of the couple. Hold your interest to know everything…
First Meeting of Ritesh Deshmukh & Genelia Dsouza
Riteish Deshmukh, an Indian film actor and producer was born December 17, 1978 in Latur, Maharashtra. Genelia D' Souza, a cute and bubbly girl was born on August 5, 1987 in Mumbai, Maharashtra.
A tall girl of sweet 16 arrived at Hyderabad airport to meet a young boy who was in his early twenties from an influential family.
On their first meeting, the two of them didn't like each other much. Genelia assumed that being a son of Chief Minister, Riteish will be a spoilt brat and full of tantrums.
On the other hand, Genelia was full of attitude and completely ignoring him. This cold reaction left him wandering why she was behaving awkwardly..!
This was their first meeting at the test shoot of their debut film,'Tujhe Meri Kasam'. And the story moved forward from here…
Genelia D'souza develop soft corner for Ritesh
Opposite to Genelia's thoughts, Riteish came out to be extremely humble and polite with everybody. He was immensely respectful towards her parents and elders. She realised Riteish was a nice person.
Geneila found it very endeauring that Riteish was completely down-to-earth, despite being the CM's son.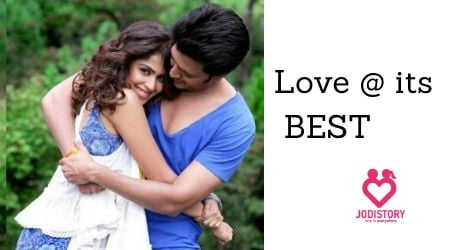 Genelia did not know anything about films, Riteish used to help her to made things easy. Did you know, Riteish is a professional architect too?? Yes, it's true.
Friendship Blossomed Between The Two
The two of them started spending time together. They used to discuss about their personal life and thoughts with each other.
Young Genelia used to share updates about her college and exams with him. Riteish also used to discuss about architecture with her on the sets.
Soon, they became best friends on and off the sets. They started liking each other's company a lot. The fondness grew between them. They fight, they play and that's the way they are meant to stay..!! Then..
Genelia separated from Ritesh
Both of them started working as strangers, but with each passing moment they began understanding each other. After completing their shoot in Hyderabad, the two of them went back to their places.
By now, Riteish had started missing Genelia's company. Genelia was also floored by Riteish's personality. She really love listening to him and enjoy his views all. She also could not keep herself unfazed by his charm.
Being in a dilemma for long, Ritiesh finally decided to give her a call. You would be amazed to know that the couple dated for 9 years before they got married.
Confessing Love for each other
Well there wasn't any confession or so between the two. It was more kind of understood. They were together for days, for months which then went into years.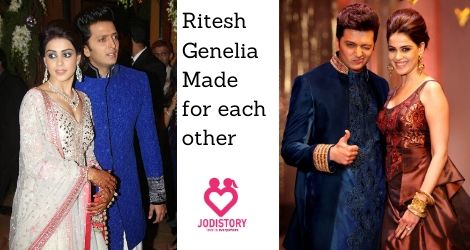 They just grew together. The gradual development of love was so unbelievable that it surprised the couple too. Love between the two was a slow process ang before they could realise it, they were in love.
There were no formal proposals, no candlelight dinners to woo each other. They only love being happy with each other.
Beautiful Wedding Of Genelia & Ritesh
Finally, the most awaited moment came. After a courtship of 9 years, the couple decided to become one. The couple tied the knot on February 3, 2012. It was a traditional Maharashtrian wedding along with church wedding in Mumbai.
The strong bond of commitment between them has made them the first couple of Bollywood who never had a single controversy.
The Kiddos, Their Little Ones
There is no doubt that the couple who is so amazing, must be great parents too. The couple is blessed with two sons. The elder cutie, Riaan who was born on November 25, 2014. The younger one, Rahyl came into this world on June 1, 2016. They enjoy their time as one cute happy family.
Forever Life Partners
Genelia and Riteish are perfectly a made for each other couple. As for Genelia, she gives Riteish unconditional support and love. Riteish is also deeply and madly in love with his beloved life. The love of his life is the most amazing thing for him.
"To love is nothing. To be loved is something. But to be loved by the person you love is everything". The couple proved it. So adorable Genelia Dsouza & Ritesh Deshmukh love story is.