Nawazuddin Siddiqui is a well-known name in the B-Town. The audiences have always praised Nawazuddin's acting skills. He is not only praised for his outstanding acting skills, but for his simple and humble lifestyle also. The actor debuted in Bollywood in 1999 with a small role in "Sarfarosh". In the initial years, Nawaz had to struggle a lot for recognition and a big break. But, his luck was not very good in the starting days. And then Anurag Kashyap's "Gangs of Wasseypur" happened to him. And after that Nawaz has caught the eyes of the audience. But unlike his successful career, his personal life is not so successful. Nawazuddin Siddiqui's personal life is full of controversies. And I have gathered all information about Nawazuddin Siddiqui's controversial love story and why his marriages failed.
Must read love stories
Nawazuddin Siddiqui's career graph – From zero to hero
Nawazuddin Siddiqui had a rough starting. He had to struggle for quite a few years to get a big break and recognition. Nawazuddin Siddiqui started his career with a small role in Amir Khan's movie "Sarfarosh". He also acted in – "Shool", "Jungle", "Munnabhai M.B.B.S". There was a time in his struggling period, he was unable to pay the rent of his house. He asked a senior to let him live with him. He told Nawaz that he could live with him but he had to cook for him.
In later years he appeared in – "Dev D", "New York", "Peepli Live". His movie "Patang: The Kite" was premiered at Berlin International Film Festival. Then after "Kahaani", he got a chance in Anurag Kashyap's "Gangs of Wasseypur". Nawaz's brilliant performance immediately caught the audience's eyes. And after that, he never had to look back. And now we are acknowledging him so much.
But why his personal life did not work out? Why his marriages fall apart? Come and know about Nawazuddin Siddiqui's controversial love story.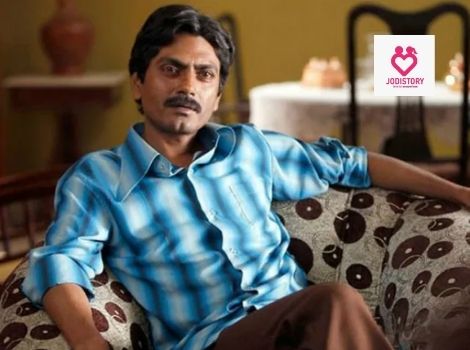 Nawazuddin Siddiqui's first love with Anjali
Nawazuddin Siddiqui and his first love Anjali used to live together. Nawaz in his memoir mentioned that he and Anjali were madly in love with each other. But their relationship was not very pleasant. It was rather than filled with fury.
Anjali, his girlfriend was very short-tempered. Nawazuddin and Anjali used to fight every next day and Anjali would get upset. Nawaz also said that Anjali would leave the house with anger and he used to follow her to get forgiveness. Often Anjali would go and live with her friend leaving Nawaz even for one or two months.
The dynamics between Nawazuddin Siddiqui and Anjali were changing for this reason. Nawaz said," This became a sort of ritual, like a cassette tape annoyingly put on repeat". He admitted that he loved Anjali madly. But why did not he marry her?
To the answer to this question, Nawazuddin Siddiqui answered that he thought marrying Anjali would be very risky. So, he decided not to marry Anjali. Their love saga of fighting, running away, and getting back together with continued for a year and a half.
But then came a time, Nawaz said Anjali did not come back for a long long time. Nawaz unlike other times got very fed up with this. He accepted that his heart was painful for Anjali but he did not go to her. And this prolonged period turned into a breakup.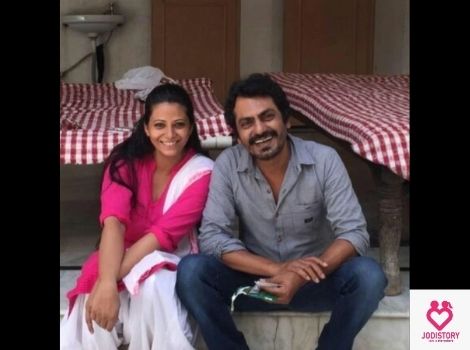 Nawazuddin Siddiqui gets married – His mother decides the girl
After Nawazuddin Siddiqui broke up with Anjali, he was feeling very lonely and sad. So, his mother decided to pick a girl for him to marry. Nawazuddin Siddiqui's mother chose a girl named Sheeba who lived in Haldwani, near Nainital.
Sheeba and Nawazuddin got married. After his marriage function, Nawaz went on to shoot for his film "Patang". And Sheeba also came along with him. They lived almost two months together. After that Nawaz went for his next shooting and Sheeba came back home.
Nawazuddin Siddiqui said that his wife Sheeba was a lovely girl. And she had a heart of gold. But if everything was so good, what went wrong in the marriage? Why did the two get a divorce? The reason behind their divorce will shock you.
Nawazuddin Siddiqui – Sheeba's ugly divorce
Nawazuddin Siddiqui and Sheeba's marriage life was going well initially. But Nawaz shared that Sheeba's brother was very intrusive. Her brother was constantly interfering in their marriage always. And this started to make differences in the marriage.
And, this leads the two to divorce. But, Nawaz's mother advised him if there is even a tiny bit of love between the two, just sort things out. Her advice rang into Nawaz's ears and he thought to give it another chance.
He tried to make eye contact with Sheeba so that she can understand that Nawaz is apologetic. But Nawauddin did nit get the chance to make any eye contact with her. Rather than he had eye contact with Sheeba's brother though.
But, when their hearing started Sheeba said that she wanted a divorce. And more shockingly she accused Nawazuddin Siddiqui and his family that they have tortured her. And, just their Nawaz's heart sank. He had left with no choice but to get a divorce.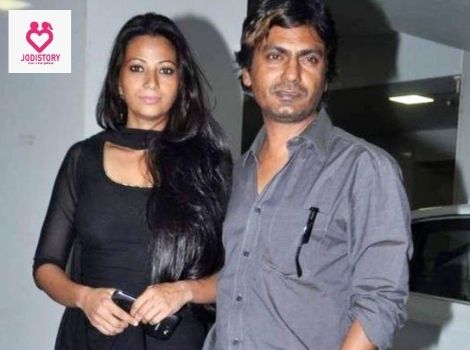 Anjali and Nawazuddin Siddiqui's controversial love story – They got back together after many years
Nawazuddin Siddiqui and Sheeba got divorced. But how did Nawaz got back with his ex-girlfriend Anjali?
After Nawazuddin Siddiqui's breakup, he again met with Anjali after many years. And soon the two started dating each other in 2004. This time Anjali's approach was a bit different from the previous time. Anjali had confidence that Nawaz's house was her own house. She treated Nawazuddin Siddiqui's small one-room flat as her own.
Anjali's presence soothed Nawaz and he felt happy. But something about Anjali was different this time. She was demanding to get married right away. Nawaz admitted that he was very afraid at first. Because what if Anjali again leaves him in anger.
But, Anjali constantly assured him that she will not do that. Are you eager to know what happened next? Did Nawazuddin Siddiqui agree this time? Read along with me.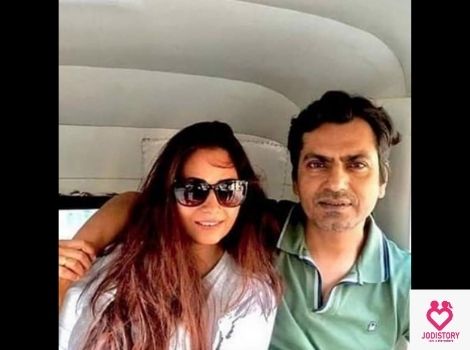 Nawazuddin Siddiqui – Alia (Anjali) finally got married
So, finally, Nawazuddin Siddiqui married his first love Anjali. During the ceremony, mullah asked Anjali to choose a Muslim name for the ritual. Anjali suddenly said Zainab. But later she changed her name to Aalia.
Nawazuddin Siddiqui and Aalia married each other in 2009 after dating for almost 5 years. The couple has two beautiful children – Shaura Siddiqui and Yaani Siddiqui. But, this time also Nawazuddin's marriage with Alia did not work out. What went wrong again? Let's find out.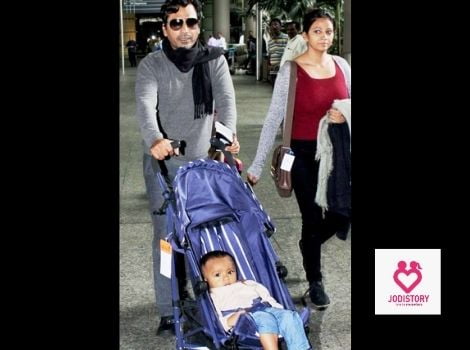 Nawazuddin Siddiqui and Aalia part their paths away
It seems like Nawazuddin Siddiqui's controversial love story had still left some shocking revelations. This year Nawazuddin Siddiqui turned 46. But, who knew his birthday will only bring the bad news. On his birthday Nawauddin's wife Aalia sent him a divorce petition.
Aalia shared in an interview that she had no self-respect left in their marriage. She felt very alone and also as if she was nobody. She also added that Nawazuddin Siddiqui's brother Shamas was also an issue. And that is why she decided to part her ways with Nawazuddin Siddiqui.
She also added that she has gone back to her original name, Anjali Kishor Pandey. Anjali filed a case in the court and also mentioned to take the custody of their children.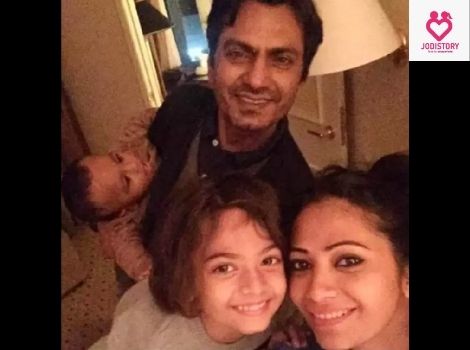 Must read love stories
Nawazuddin Siddiqui's controversial love story comes to an end
It is really sad that Nawazuddin Siddiqui is so successful in his career but not in his love life and marriages. His relations and marriages just don't seem to fit in. Nawazuddin Siddiqui has not answered to the divorce petition yet.
We hope that Nawazuddin Siddiqui can live his life happily with fewer troubles. Let me know in the comment section if you liked the story or not.