Yes, exactly you are reading the very true headline. The day has gone when lovers had to face police cases. Now you can fall in love and feel the love in Rajasthan. Of course, Love freely in Rajasthan, Police will give security. On 8 August 2019 Rajasthan Police has passed the #honourkilling bill.
Also Read: Assam Police Arrested Three Muslim Sisters For Love Jihad
Don't afraid to make love. Rajasthan police department has uploaded a photo on twitter. And mentioned the norms related to honor killing.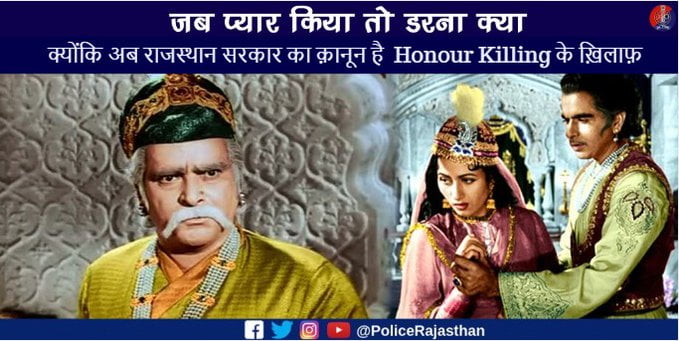 Rajasthan police said-" Beware, Mughal-E-Azam Day has gone. And whenever you tried to harm any lover physically or mentally. You will be accused under #honourkilling law 2019. You may be sentenced to life imprisonment. Or you will have to pay rupees 5lakh as fine. Because to love is not a crime".
As Rajasthan senior police officer Maruti Joshi said. Although " Anarkali has sacrificed her love in Akbar's era. But It can not take place anymore in Rajasthan. Because Rajasthan has become India's no 1 state. To pass the honor killing bill. And it has become the responsibility of the Rajasthan Police. To protect lovers who marry intercast.
Also Read: Chinese Woman Came to India for Marrying Indian Boyfriend
If anybody ever tried to harm the lover. Or tried honor killing. Rajasthan police will not leave them without punishing. In fact, the Rajasthan Government has also launched a helpline number for lovers. In January 2019. To provide protection to the newly married couple of intercast marriage.
The helpline was set up on 24 January 2019. In fact according to its nodal officer. They have received twenty-four such calls. Related to honor killing in just the first week. The lovers were asking for help from officers. So the Rajasthan Government has strengthened themselves. To fight against honor killing and support lovers.
So love freely in Rajasthan, Police will give security.