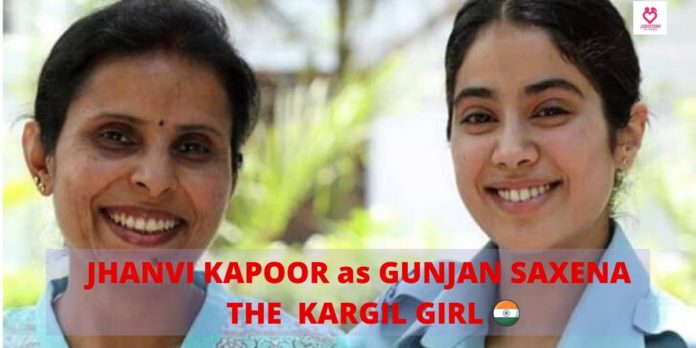 Well, Gunjan Saxena is a Kargil Woman of India. She is known because of her brave achievement. Being a girl it was tough for her to make a career in defense. But somehow she managed to achieve her dream. Now Bollywood is going to release biopic on her. It is a proud moment for, Gunjan Saxena. Below is the detail info about Gunjan Saxena love story, biopic, husband, movie
Must-Read Biopic
The Dhadak actress Janhvi Kapoor is ready to fly with a unique biopic. As her new movie Gunjan Saxena the Kargil girl will be on the floor very soon. This Biopic completely reveals the life journey. With some unknown achievements of Gunjan Saxena. The upcoming Hindi biopic is under the direction of Sharan Sharma.
Produced under Dharma Productions and Zee Studios. The film is predicted to release on 13 March 2020.
Who is Gunjan Saxena's (from Childhood to teenage)
The Movie is mainly based on Gunjan Saxena. Gunjan Saxena was born in 1975 in India.
She was pursuing an undergraduate course at Hansraj college at the University of Delhi. When she came across the pleasurable opportunity of joining the Indian Air force.
This Batch was the very first batch of female IAF trainee pilots. She was in the first place as the second defense officer
Gunjan Saxena's Family
Her family belongs to an army background. Her father and brother use to serve the Indian army.
In fact, her elder brother took her to have a look at a real plane. Which inspires her to fly and to make history.
As the Indian army was male dominating. So Gunjan decided to grab a chance to make history.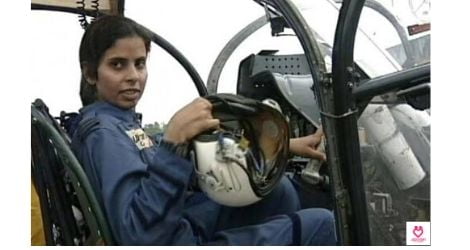 And she cleared the SSB exams and joined the first batch of 25 women in the Indian Air Force in 1994.
Her first posting as a flight officer is at Udhampur, Jammu & Kashmir. She also got selected as a pilot at IAF.
Gunjan Saxena's Husband
Gunjan is married to an IAF officer. Who is a pilot in the Indian air force.
They both have a daughter named Pragya born in 2004.
Gunjan Saxena's Career
Initially, Lady Officer was not able to fly fighter jets. But Gunjan batch made history.
It was unsure how they will handle the pressure and stress of flying planes.
As the Kargil war (between India and Pakistan ) took a toll on Indian forces and their resources. Air force required each and every pilot for war.
Which in turn increase the demands of officers. Hence female officers were called
Now it was the time to fly she along with anther courageous pilot Srividya Rajan. Both flew into a combat zone after a training of a week.they were the first lady to fly in a combat zone.
According to her job, she used to supply medical evacuation spotting Pakistani soldiers material.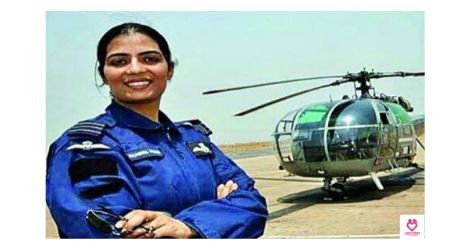 During the Kargil War, she picked wounded and dead bodied of soldiers at hilly areas. Facing the fire, Gunjan and lieutenant Srividya Rajan also managed to carry the soldiers to their homes safely.
She also carried a revolver with her on the chopper in case she would have to battle in her way.
Her tenure ended in 2004 after seven years of service as a chopper pilot.
Achievement of Gunjan Saxena in the Kargil War
Gunjan also holds the "Shaurya Vir" award. Because of displaying her courage and dedication during the Kargil war.
She also shows her brilliant courage in the operation "Vijay" at the time of the Kargil War.
Now she is a homemaker and lives with family in Jamnagar Gujarat
About Cast and Crew of Biopic Gunjan Saxena
The movie features Sridevi and Boney Kapoor daughter Janhvi Kapoor in the lead role of Gunjan Saxena (IAF Pilot).
The film also includes Pankaj Tripathi as Gunjan's father. Angad Bedi as Gunjan's brother in supporting roles.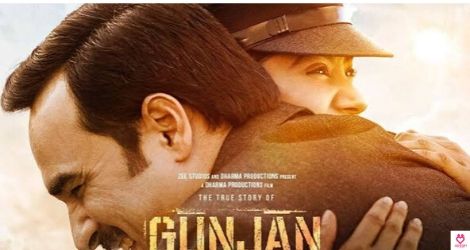 While makers also decided to choose child actor Riva Arora. As the younger version of the celebrated pilot.
First Look of Gunjan Saxena movie
As this is the very first biopic by Janhvi, her excitement level is up to the next level.
In the first look, pretty Janhvi is playing with a paper airplane. Karan captioned it with some delighted words.
"She was told ladkiyan pilot nahin banti, but she stood her ground & wanted to fly!".
Gunjan Saxena – #TheKargilGirl releasing on 13th March, 2020. @apoorvamehta18 @shariqpatel #Janhvi @TripathiiPankaj @Imangadbedi @ItsVineetSingh #ManavVij @sharansharma @DharmaMovies @ZeeStudios_ .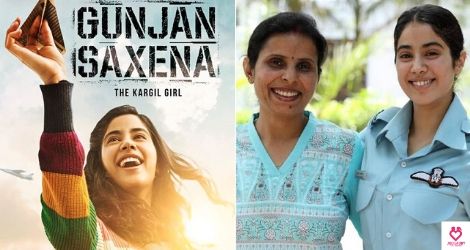 Sharing another fascinating poster of Gunjan Saxena. The expression on the actress's face of happiness, satisfaction and is shining with ample positivity.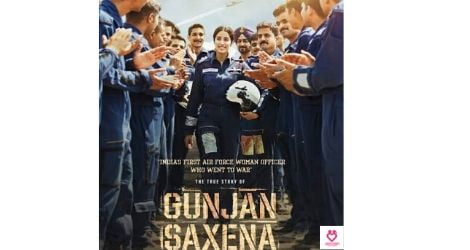 On the Kargil Girl, Karan quoted ."With unabashed courage & bravery, she made her domain in a man's world. Gunjan Saxena – #TheKargilGirl, releasing on 13th March 2020." Hope you loved the story of Gunjan Saxena love story, biopic, husband, movie.