The definition of Love still remains undisclosed..
Love has an infinite number of possibilities.
Breaking such stereotype,there is this beautiful Indian couple who not only surpassed the numerous barriers of Love, but also dared to love each other despite of belonging to the same GENDER.
In India, it obviously was seen as a taboo.
We Indians, are not used to the fact of a couple of the same gender, loving and living together.
This isn't a common story, where the girl blushes and the boy then falls in love.
It's about two equal men, Sameer Samudra and Amit Gokhale, who plucked up the courage,took a stand for their love, and are now settled in the United States and are living happily.
It was a regular day for Amit, when he was scrolling GayBombay's mailing list, when he came across Sameer.
Everyday they used to speak on the phone, for almost three hours.
Little did they know, that they were then speaking to their better halves..
Slowly we both realised, we had fallen for each other."- Sameer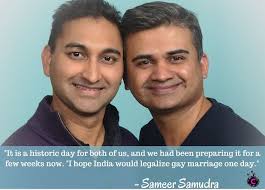 Everyday this routine continued and after 5-6 months of this daily schedule, they slowly realised what they felt, and this friendship soon blossomed into a relationship of Love.
It was Amit, who initiated the act and asked Sameer out.
Also Read: How far can you go for Love, if it demands you to sell your Kidney?
Amit had arranged a very romantic evening at a cozy Mexican restaurant.
He even designed a cute e-invite for Sameer in order to ask him out.
He even gifted him flowers and cards.
Romantic. Isn't it?
In spite of his student status, he (Amit) did all these things and that mattered to me a lot. I was very touched to see his love and affection."- Sameer
And obviously, that evening marked upon a very memorable date for both of them.
An evening of love, emotion, and declaration of their love for each other.
It was the night when they first kissed..
When a couple loves each other so much, it's very hard to stay away from their partner.
Everytime, every hour, every minute, you just want to be together.
Same happened with Amit and Sameer.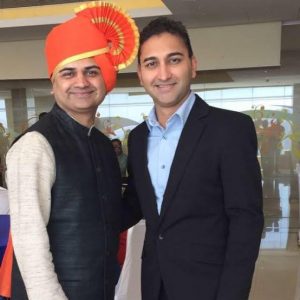 Soon they decided to move in together, and as they luckily both belonged to Maharashtrian backgrounds, it wasn't much difficult for them to arrive at a common place or a discussion.
It was something we both wanted and we craved for, so we went for it."- Sameer
Sameer's cute smile, pretty eyes and mischievous attitude, makes him more attractive. He is a great friend and a mentor. He is always willing to help others, and that is what I like most about him. – says Amit.
Amit is a caring and extremely humble human being. He has passion for life and does not shy away from expressing his love for me." – says Sameer
Well, India is country which is very well known of it's drama, social norms and rules and religions.
But this couple had literally broke the barrier of the sex they possessed.
Obviously it was very painful and hard for all of us. Their acceptance didn't come easy, it took 3-4 years!"- Amit
When they broke this huge news to their families, as for Sameer, his family was more of a practical one and his sister and brother-in-law, did support him in his decision.
It was Amit's family who found this unreasonable and fiddly.
They were so uncontrollable, that they even took Amit to see a psychiatrist.
But finally after, making them understand fully, their families gave in and accepted them as a natural couple who loved each other.
Well, if the Love is strong, why will it fail?
Amit proposed on Sameer's birthday, April 21, 2009. And Sameer, as enraptured as he was obviously, said yes.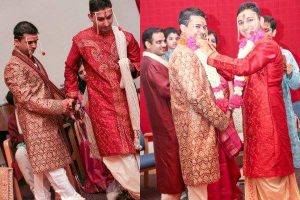 Our families played a key role in making our wedding a big success,"
They decided to take their vows and engage themselves in holy matrimony in Columbus, Indiana, as they both lived and worked there.
It was the place where they had met and fell in love.
It was an intimate ceremony attended by 60-70 guests.
We got married in traditional Maharashtrian style with all the rituals. It was extremely meaningful for us both."- Amit
The sacred ritual of kanyadaan was renamed vardaan and both of us were given away to each other by our parents. Our wedding was indeed the happiest moment of our lives." – Sameer.
Sameer and Amit legally got married in Pittsburgh, Pennsylvania, when the gay ban was lifted in the state.
The two had to wait for four years after their traditional marriage to make their union official.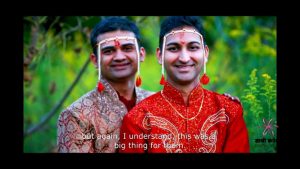 And finally after 11 years of being together, the couple said "I do", in front of their parents, family and friends.
Such a beautiful feeling. Isn't it?
Also Read: Men Can Also be Harassed: We Are Men So We Are Wrong ??
Both of them think about having kids someday, but for now, they aren't as ready as they should be.
Breaking the social norms,Love has obviously evolved.
Breaking the caste rules,religion barrier, family unacceptances and the appearances fact, Love has encountered upon many tragedies.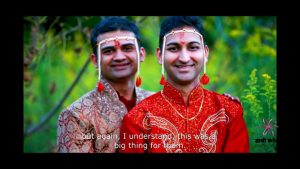 "Believe in love and the power of love."- Sameer
To be perfect, Love needs sacrifices, it needs patience, it means to face those obstacles and still staying together.
Love is a beautiful feeling.
And it is more beautiful when it is strong.