Who hasn't heard of Aamir Khan? Everyone has! Right?Apart from being a virtuoso actor, he was also honoured by the Government of India with the Padma Shri in 2003 and the Padma Bhushan in 2010. Aamir Khan,the legend and the most recognised actor of Bollywood. But you have landed on my blog to read Aamir Khan love story.
Love for Aamir Khan has been a kind of a roller coaster ride.
His childhood love, whom he married – Reena Dutt, did not turn out to be a happy marriage.

They both were married for 16 years but soon were divorced.
They have two children – Junaid and Ira.
Even after a divorce, these two seem to have kept their relation in good terms.
Probably the most traumatic period has been my divorce — not just for me but for everybody involved, I imagine. I can't think of any other significant low.'
The couple adduced temperamental differences as the reason for their divorce.
Also Read: Radhika Apte & Benedict Taylor Love Story: I don't have a boyfriend, because I am married
I really value the 16 years Reena and I spent together. I have the highest respect and love for her. I will always have that"
Aamir Khan 2nd love Kiran Rao
Aamir met his new soul-mate Kiran Rao, in the sets of Lagaan.
Kiran was an assistant director then.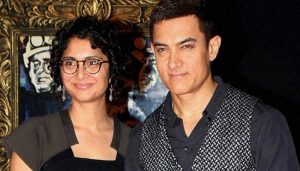 Just like every teen, Kiran adored this cute guy in Qayamat Se Qayamat Tak
I loved him in it but I enjoyed the film more. I was like "What a great film, what great music, what acting and what a cute guy!'"
Back then Kiran would have never thought of loving and marrying this Perfectionist.
On the sets, Kiran and Aamir used to interact a lot.
My general impression about her was of a really nice, warm, happy, bright girl who is fun to be with.
He actually got to know her better much later, when they were shooting a commercial for Coke.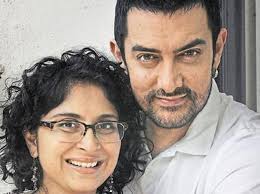 Since then the couple started dating, with an on and off relationship.
They didn't want any serious commitment in the initial period, but Kiran started to fall in love with him soon..
I felt like "Oh… this is someone I really want to spend more time with and this is someone I want to know better." But I fell in love with him quite early… a couple of months spending time intimately with him, I was hooked.'
It was when Aamir was feeling completely low after the separation with Reena, when Kiran and he had a long conversation.
She understood him in his bad times, and that's when even fell in love with her.
Even afted his cousin's opposition, Aamir continued to date Kiran.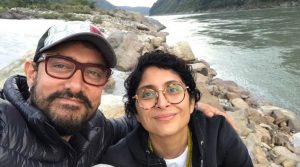 Slowly I felt that when I am with her, I am comfortable and happy and open to share anything with her. Actually, we were friends first and then lovers. I felt relaxed after years,'
For a period of time, Aamir did not confess about their live-in relationship.
But soon he announced it to the world, once they were ready.
And that's when they mutually decided to take this relationship to a new level by getting married.
Also Read: Love Story Of Emraan Hashmi: A Romantic Tale
Aamir Khan married Kiran Rao on 28th of December, 2005.
It was much of a private affair.
The couple has a son, Azad Rao Khan, and also named after Abul Kalam Azad.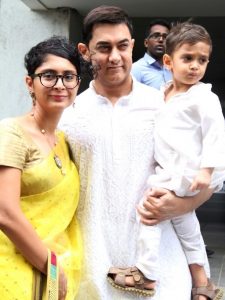 However, their decision of marriage wasn't appreciated by the Bollywood industry.
There were speculations regarding how a great successful actor decided to tie the knot with a woman, who was still struggling in the industry.
Kiran has contributed a huge deal to me, to my personality and to my very hectic fabric. I am much more relaxed ever since she has come into my life.'
What else is love?
Nothing, but this.
They survived through the oppositions,stayed together, got married and are still happily in love!!