Lara Dutta Bhupathi is an Indian actress,model and beauty queen who was crowned Miss Intercontinental 1997 and Miss Universe 2000. Mahesh Shrinivas Bhupathi is a retired Indian professional tennis player who became first Indian to win Grand Slam Tournament. Below you are going to read Lara Dutta & Mahesh Bhupathi love story.
First Meeting of Mahesh Bhupatti and Lara Dutta
Mahesh saw Lara in 2000 after she was crowned the title of Miss Universe. He got attracted to her right at the moment.After that they met in a business meeting for Mahesh's Entertainment and Sports Company.
Must Read Love Story
Love in Air
Mahesh is a simple man.He is known for his polite and submissive nature.Lara fell in love with Mahesh's simplicity and honesty while Mahesh was already attracted to her from the first time he saw her.
Mahesh Bhupathi Proposed Lara Dutta
Mahesh proposed Lara during his US Open in America.He took her out on a candle light dinner and proposed her with a ring.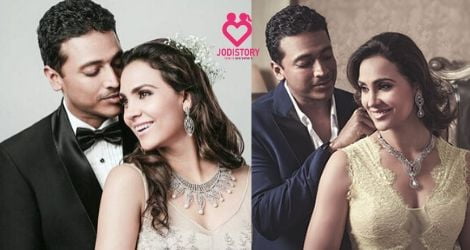 Relationship turned complicated
Lara and Mahesh were second persons in each other's lives. Mahesh was already married to Shweta Jaishankar and broke ties with her in 2010. It is rumoured that
–this relationship came to an end because of Lara.Mahesh was already married to Shweta when he was dating Lara.
Lara had been in relationship with Kelly Dorji for 8 long years who were known to be an inseparable couple.
Kelly accused Lara for getting too intimate with other men specifically Dino Maurya.Lara was closer to Dino for 3 years in her relationship with Kelly.
Finally she found love in Mahesh and they changed their relationship into marriage.
Marriage of Mahesh Bhupathi and Lara Dutta
After dating for a while,Lara and Mahesh announced their engagement publicly. Both of them were busy with their professional commitments and finally got married just two days after Valentine's Day on 16th February 2011 in a civil ceremony in Bandra,Mumbai.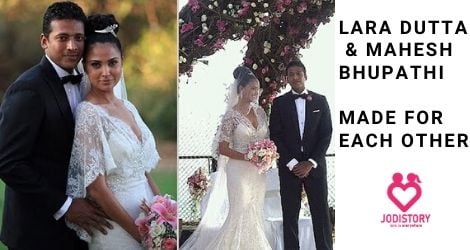 They had a fairytale Christian wedding few days later on 20th February 2011 at Sunset Point,Candolim in Goa.
When Mahesh Took Vows
"Lara, when I first met you, this day was a dream. Today it is reality. When I'm on the tour, not a day goes by without me wishing I was home with you instead, so even when I'm gone I am with you" he later went on to add "you are my companion, partner and best friend. I promise to stick by you through hits and flops. I look forward to growing old with you." Isn't it spectacularly awesome?"
When Lara Took Vows
'I promise to return your serves and volley alongside you. I will be with you through our many wins and occasional loss."
Lara Dutta-Mahesh Bhupathi Family
Lara and Mahesh found soulmate in each other and their life took a beautiful turn when the couple was blessed with a beautiful daughter on 20th January 2012.They named her Saira,which is an Arabic name which means "Princess".
Conclusion
Life takes a U-turn when you find your actual self within someone else.Some failed relationships do not mean you cannot get live again.Lara and Mahesh Bhupathi have set a beautiful example. I hope you like Lara Dutta & Mahesh Bhupathi love story.