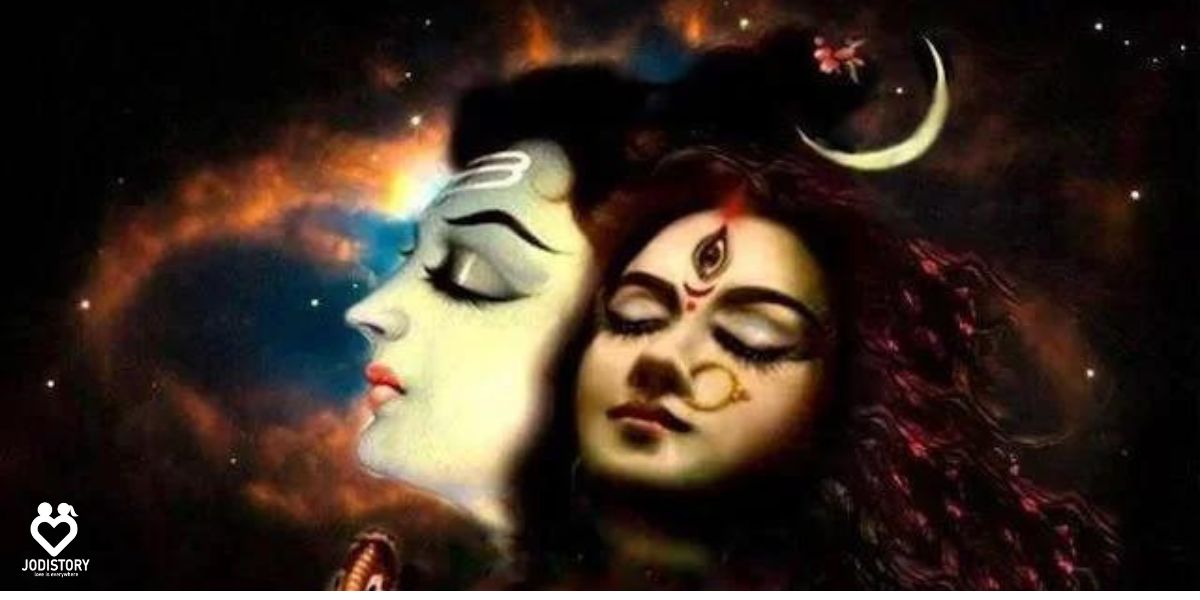 Lord Shiva is the god of destruction. Brahma-The creator, Vishnu-the preserver and Lord Shiva-The destroyer are the three divine gods of the whole universe. Shiv and Parvati's Divine Love Story was the first true love story in this world.
Shiva is the destroyer of Ego, negativity and bad deeds from the world! Whereas, Shakti who is also called "Maa Parvati", "Mata Sati", "Mata Kali", "Maa Uma" etc, is the wife and Ardhangini (better half or half body of shiva).
Their Love Story is something which will give you goosebumps on reading!
Who are Lord Shiva and Maa Parvati?
Lord Shiva as mentioned by Brahma was not a god. He was a being who came on land and lived in the Himalayas. He didn't take birth neither he can die.
Lord Shiva is immortal and the"God of Destruction". Maa Parvati was born as Mata Sati to Maharaja Daksh Prajapati. She was Lord Brahma's granddaughter.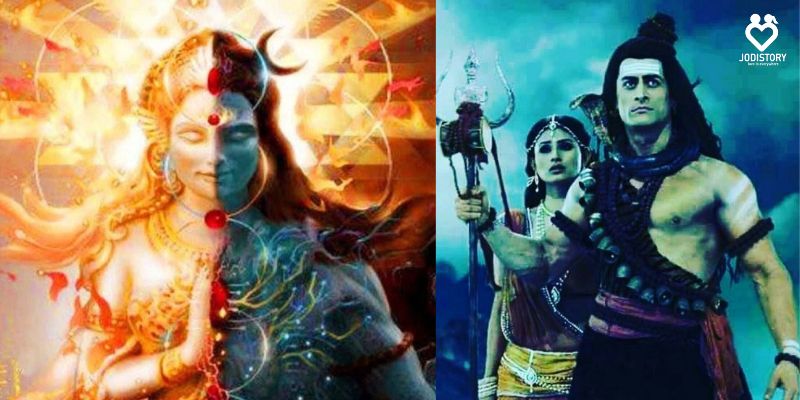 Mata Sati was reborn as Mata Parvati and again married Lord Shiva. Do you want to know the whole story?
MUST-READ LOVE STORIES
Shiva's love of life was born in Daksh's kingdom
Lord Shiva has always been in solitude. He was always drowned in meditation and looking after his devotees.
Lord Shiva never had any family or close relations with anyone. He was a recluse. No attachments, No Greed!
Here, Raja Daksh Prajapati became a father once more! Sati was the youngest daughter born to him among his 27 daughters.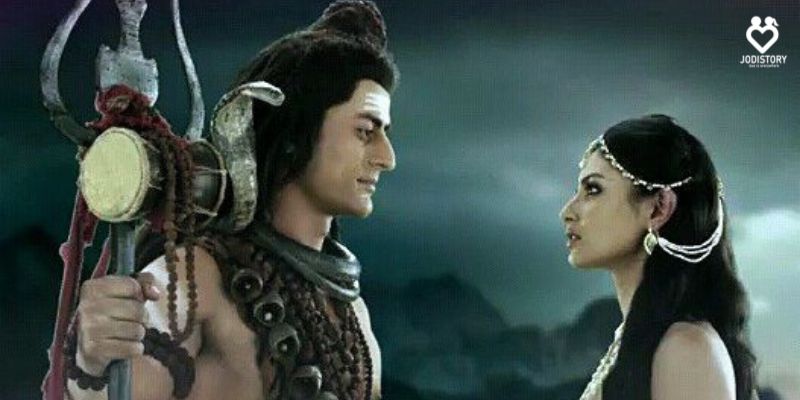 King Daksh Prajapati had a hatred for Lord Shiva. He never considered Lord Shiva as a god. According to mythological stories, Lord Shiva cut Brahma's 5th Head due to some reason.
Because of this, Raja Daksh Prajapati hated Lord Shiva. As Brahma was Daksh's father!
Mata Sati got attracted to Lord Shiva
Shiva and Shakti's union was written already! No one could have stopped them from getting together. Though Sati knew that his father, King Daksh hated Lord Shiva. But, she couldn't stop herself from getting attracted towards Lord Shiva!
Sati, due to the divine powers about which she was unaware, used to get dreams of her being the half-part of Lord Shiva.
Sati used to get scared because of these kinds of dreams. But, she denied these instances of her being Lord Shiva's better half.
Soon, unknowingly Mata Sati fell in wholehearted love with Lord Shiva. She didn't even realise the whole process!
But, who knew that her love for shiva will turn into a huge mishap?
Mata Sati had to Die in Love
Mata Sati confessed her feelings to Lord Shiva. But, Lord Shiva being a god knew that her love towards him will be unlucky for her life!
Mata Sati never listened to him and always tried to convince him and explain to Shiva what she felt for him!
Finally, Lord Shiva also fell in love with Mata Sati and agreed on marrying her. But, listening to this King Daksh Prajapati got angry and decided to marry Sati to someone else.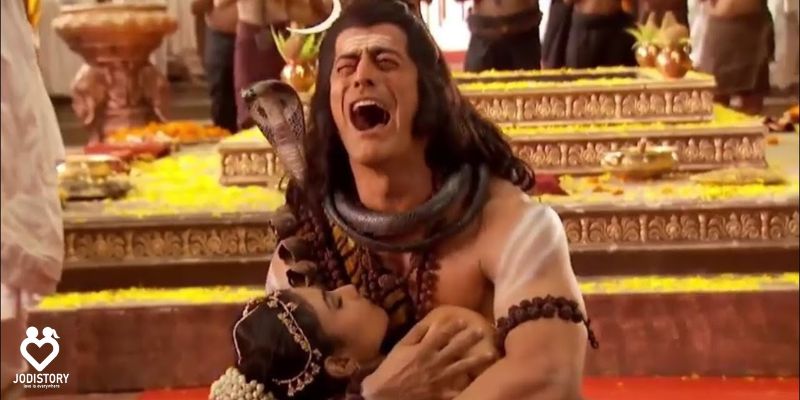 Raja Daksh Prajapati organised a "Swayamvar" for her in which a bride chooses her life partner by putting the Var mala(necklace made up of flowers) on their life partner. Raja Daksh Prajapati made a sculpture of Lord shiva and put him at the door of his palace to welcome all guests to his daughter's wedding.
Daksh did this because of his hatred towards Lord Shiva. When it was time to put Var Mala. Mata Sati closed her eyes and imagined her love, Lord Shiva.
The Var Mala magically got away from her hand and was put into Lord Shiva's sculpture and suddenly the sculpture turned into the real Lord Shiva.
MUST-READ LOVE STORIES
Everybody was surprised and happy at the same time! But, Raja Daksh Prajapati got furious and insulted Lord Shiva in front of the whole crowd.
Because of this, Mata Sati got angry and took the form of Mata Durga. As a true wife of Lord Shiva, Mata Sati announced to everyone that this insult to Lord Shiva happened because of her so she will sacrifice herself by jumping into the fire.
Mata Sati jumped into the fire and died!
Lord Shiva's grief because of losing his love
After Mata Sati sacrificed herself for Lord Shiva. He just got broken and hold the dead body of Mata Sati and started crying!
Everybody was in pain seeing Lord Shiva crying and screaming Sati's name. Lord Shiva sent his incarnation on earth to destroy everything as he couldn't bare losing Mata Sati.
The incarnation "Veerbhadra" destroyed the whole globe. Veerbhadra cut Raja Daksh's head and the king died. But, King Daksh's wife requested Lord Shiva to return her husband to her. She cried and requested him for this. So, Lord Shiva gave life to Raja Daksh again!
Lord Shiva then silently took the body of Mata Sati and went to the Himalayas. He cornered himself from the whole world and was broken completely!
Lord Brahma's decision to re-born Mata Sati as Maa Parvati
Lord Shiva started living alone far from everything. He sacrificed the whole world. Just cried in grief and pain.
Seeing this, Lord Brahma and Lord Vishnu decided to return nature to its glory. The whole of nature lost its beauty because of the loss of Shiva and Shakti.
But, Lord Brahma re-born Mata Sati as Mata Parvati. Lord Shiva again came back to his original life after knowing that his love of life is born again!
Lord Shiva met Mata Parvati after she took birth and was a kid. Seeing her, he was too happy and satisfied. And Shiv, Shakti and their Divine Love Story started!
Lord Shiva again married Mata Parvati
Lord Shiva awaited for Mata Parvati to grow up as a woman and to marry her. Then, he made Mata Parvati realise her past form as Mata Sati and her love towards Lord Shiva.
After, Mata Parvati got to know her past and who was Lord Shiva for her. She cried and decided to marry Lord Shiva as soon as possible.
After, this on the auspicious day of "Maha Shivratri", Lord Shiva married Mata Parvati. Their marriage was a huge celebration for all the gods, devils, humans, animals, in fact, the whole of nature.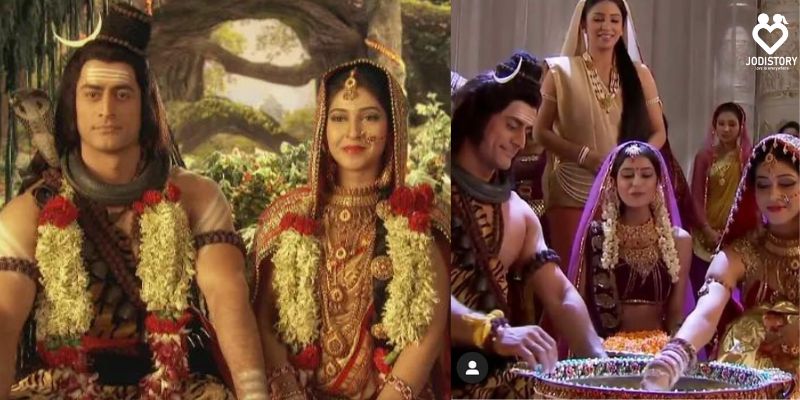 Finally, Mata Parvati and Lord Shiva married with all the rituals. Shiva and Shakti reunited to save the world!
Lord Shiva and Mata Parvati had Lord Kartikeya and Lord Ganesha as kids
After they married each other. Mata Parvati got a desire to have kids and become a mother. At first, Lord Shiva didn't agree with this decision.
As he said Mata Parvati is already a mother of nature, their devotees and the whole world. Then Why she needed any kids to be a Mother?
But, Mata Parvati insisted Lord Shiva have kids. So, Lord Shiva and Mata Parvati with their divine powers created their first baby boy.
They kept his name Kartikeya and decided that he will be a warrior to save the world!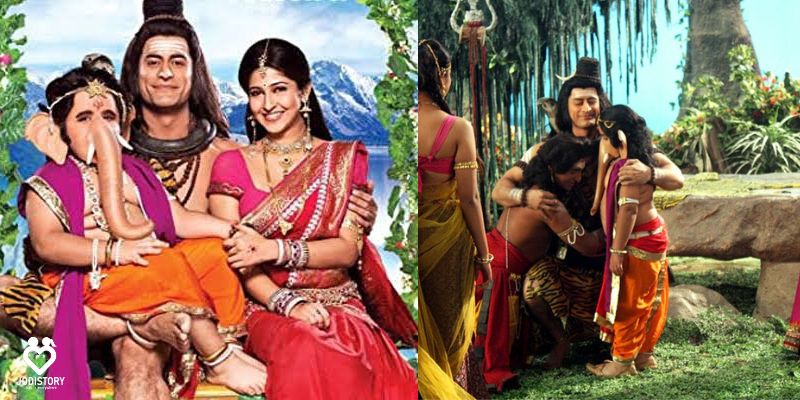 Later, one day Mata Parvati was taking bath and wanted someone to be present at the door and don't let anybody enter inside.
So, she made an idol with mud and put life into it. He went to the door to be a guard.
Suddenly, Lord Shiva was coming towards Mata Parvati but the boy stopped him and didn't let him go inside.
After so much argument between Lord Shiva and that Boy. Lord Shiva got angry and cut the boy's head using his weapon "Trishul".
Lord Ganesha become the second child of Shiv-shakti
After, Lord Shiva cut the boy's head. Mata Parvati came and saw it! She explained everything to Lord Shiva and cried.
Finally, Lord Shiva decided to put the elephant's head on his body and accept him as his son.
They kept their son's name as "Lord Ganesha" and gave him a blessing that whenever anybody will do any "Pooja". They must worship Lord Ganesha first.
Every good deed will start with "Lord Ganesha's" Worship. Till Now, you must have loved Shiv and Parvati's, Divine Love Story.
Ashok Sundari was the daughter of Lord Shiva and Mata Parvati
One day, Lord Shiva and Mata Parvati were talking about their kids. Then Lord Shiva told Mata Parvati that if someone is blessed by a daughter then it means their karma has always been pure!
So, Mata Parvati expressed her desire to have a daughter and experience the feeling of being a daughter's parent. Lord Shiva also agreed with this!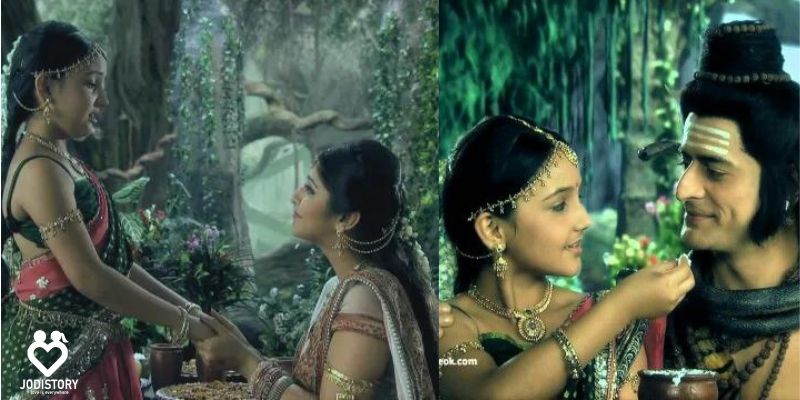 Mata Parvati made a beautiful sculpture of a young girl. Lord Shiva along with his Shakti, Mata Parvati gave life to the sculpture. Then, their daughter appeared in front of them.
Both of them couldn't stop their tears seeing the girl. They decided her name was "Ashok Sundari". As she was very beautiful and innocent.
Who is Shiva's, true love?
Goddess Parvati is Shiva's, true love.
Who is the last love of Lord Shiva?
Goddess Parvati is the last love of Lord Shiva.
How many kids Shiva Parvati had?
Shiva and Parvati had three kids, Kartikeya, and Ganesha and a daughter Ashok Sundari.
How was Shiva married to Parvati?
Shiva married Parvati after she recognised him.
Final thoughts on Lord Shiva and Mata Parvati's Love Story
Shiv and Parvati's Divine Love Story is the first true love story. They are the real epitome of true love, care, respect, strength etc.
Shiva and Parvati are always worshipped together. They are never apart! Both Lord Shiva and Mata Parvati equally take care of the whole world. They also symbolize equality!
Shiv and Parvati's Divine Love Story is a mixture of emotions! Lord Shiva and Mata Parvati's Love Story is immortal and a true example for all true lovers!