Belonging to two very opposite sides of the region, there is a huge difference in Chetan Bhagat and Anusha Bhagat lifestyle, habits and culture. North and South are two different regions having regional differences yet they hold the same roots of nationality. But, instead of over this trivial matter. They chose to take the best of both cultures and give a solid foundation to their life. And made it an everlasting journey of love and success. Below is Chetan Bhagat & Anusha Bhagat love story.
Chetan Bhagat is one of the best seller author recognized by all. Even New York Times regarded him as 'Biggest Selling English Language Novelist'. He was also recognized by Times in the list of 100 most influential faces of 2010.
Also Read: Steve Jobs Love Life: An Apple a Day keeps the lovers together!
Chetan's books have talked about love and romance which is the most trending phase in a youth's life. His books narrate his own love life.
He owns a rock star wife, Anusha Bhagat. She has built a successful career for herself and been a pillar of strength for Chetan, is firmly out of the limelight. Let's bring forward the love story of these two lovebirds.
Where Chetan Bhagat and Anusha Bhagat met
Chetan Bhagat was born in Delhi to a Punjabi family. He was born to a Lieutenant Colonel and to a lady from the Agricultural Department. He did his B Tech from IIT-Delhi. And went up for MBA to Ahemdabad.
Anusha Suryanarayanan was born to a brahmin family in Thanjavur and did her schooling from Chennai.
And came to Ahemdabad for her further studies. So here was when South met North for the very first time and it changed their whole life.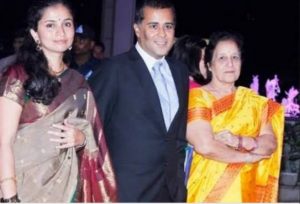 Love boat of Punjabi guy and South Indian girl
Chetan and Anusha first crossed paths when Chetan visited the college canteen and saw the adorable Anusha. Since she was a fresh face in the college.
Chetan decided to strike a warm friendship with the lady. Soon their friendship took a boat of love which they decided to row together.
Chetan and Anusha eventually came forward with their feelings. After completing their studies they decided to tie a knot. This is when a twist came in their lives and their marriage hit a roadblock.
Chetan Bhagat & Anusha Bhagat love story felt 2 STATES situation
The cultural difference became the bone between the two families. The parents were busy passing sneering remarks on each other due to the difference in their culture.
Chetan decided to convince Anusha's parents. He managed to build a space for himself in everyone's heart. Gradually, they accepted him as their son-in-law.
Also Read: HOW TO HAVE A HAPPY LONG DISTANCE RELATIONSHIP ?
This was not the end of the story as it was now Anusha's turn to convince Chetan's parents.
And she took the same approach as Chetan, and tried to convince his parents. Her efforts came up with good results and she was successful in convincing his family.
Finally, they convinced their parents and next step ahead was a marriage ceremony.
Chetan Bhagat & Anusha Bhagat marriage
Chetan and Anusha got married after going through the struggle of convincing their respective families. They have both agreed that it was the most difficult time in their entire journey.
Later after marriage, they spent 11 years in Hong Kong working as an investment banker.
But as his desire to write increased and they decided to return to India. Anusha was a very supportive wife and encouraged him to write and pursue his dreams. On her encouragement, he left his job and carried his passion forward.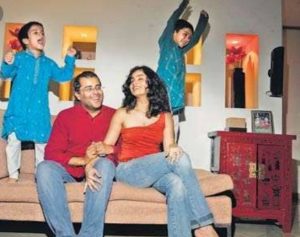 Happily ever after
This tale of love makes one sit and introspect about the staunch belief of our otherwise rich value system.
Chetan and his wife Anusha's love story has been a source of inspiration. And a lesson of learning to many couples and families.
Anusha Suryanarayanan and Chetan Bhagat marriage glimmers distinctly to convey and prove the fact. No matter which culture or value system you hail from love has no discrimination. How sweet Chetan Bhagat & Anusha Bhagat love story is.