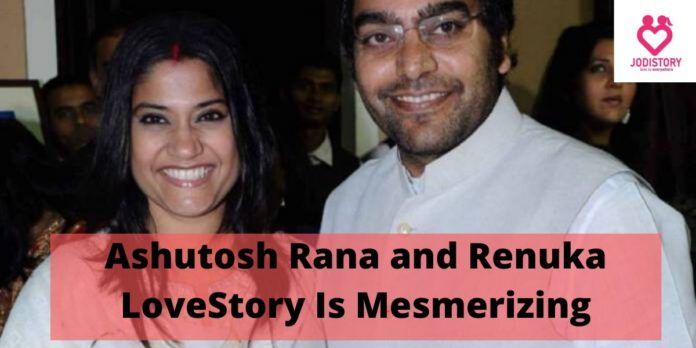 Ashutosh Rana is one of the best Indian actor. He has been working in Telugu, Marathi, Kannada and Hindi. films for many years. Rana has also acted in Indian television shows. And has also won two Filmfare Awards for Sangharsh and Dushman. Well, he is famous for his of negative roles in the movies. Between all this, he had a great love story. And had married the love of his life Renuka. Both might be different in personalities but have a single soul. Today in this article we are here to discuss Ashutosh Rana and Renuka LoveStory. So are you excited to know all about their love life? If yes, then don't go anywhere we are here to make your time memorable.
Know about Ashutosh and Renuka's first meeting and their marriage. Scroll down.
How they met?
Both Ashutosh and Renuka were working on the same film. And met at sets of the movie Jayati which under the lead of Hansal Mehta. They met each other for the first time and were fascinated with each other Singer Rajeshwari introduced them to each other. Rana had seen Renuka's work, but she was unconscious to his tasks and to him too.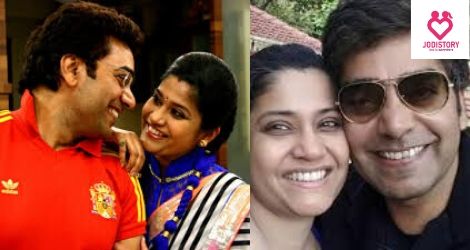 Renuka was so surprised by it, but they both were in no contact for several months. It all began again when Ravi Rai their director gave a Diwali party which Renuka, sadly, could not attend. The very next day, Renuka got a voice mail from Ashutosh Rana, wishing her Diwali. Those voice mails were the beginning of their love story and the rest is history.
Recollecting those good days, Renuka once shares:
"In Oct, director Ravi Rai was preparing a serial, and he had him(Ashutosh), a few others and me in mind. Ravi had thrown a great Diwali party at his place where Rana couldn't make it because he had to give an interview."
She also adds:
"The very next day Ashutosh called me on my answering machine wishing me a happy Diwali. This was on 17th Oct, he again called on 19th Oct and finally on 20 Oct 1998."
Renuka's Anxiety
Like every true love story, this one too had a few problems. Renuka had some uncertainties regarding their love story as she had previously acquired some painful experiences in her life in the past. But, Ashutosh Rana didn't even speak a one-word about her past.
Ashutosh adds:
"Her past didn't highlight in any of our long conversations, there were no doubts on my part."
Their Grand wedding
Ashutosh and Renuka just wanted to have a conventional marriage with close friends and family in the gathering. After dating for about two and a half years, the pair decided to tie the knot in the birthplace of Ashutosh at Damoh, Madhya Pradesh.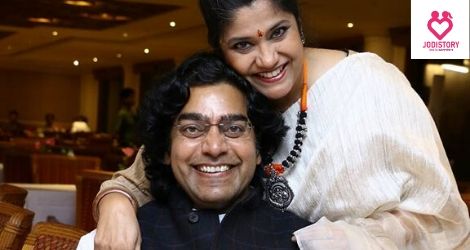 Describing the idea behind having a small wedding, Renuka shares:
We both wanted it to remain uncomplicated because Ashutosh's religious guru wanted it that way. Plainness suits us fine as we both had no time to arrange an elegant wedding."
The plan was to have a private marriage, but it turns into a royal occasion because of the duo's fan following. When they both reached Damoh Station, the whole station was filled with their fans who wanted to greet the new couple.
They both inaugurated the hotel and then got prepared to reach the mandap. Renuka was looking stunning in a popular red lehenga with a beige dupatta. Ashutosh was seen in beige bandhgala with a golden turban to complement his bride.
Their Children and Happily Married Life
Both are blessed with two amazing sons, Shouryamana and Satyendra. Renuka and Rana have surely come a long way. And are together for over twenty years.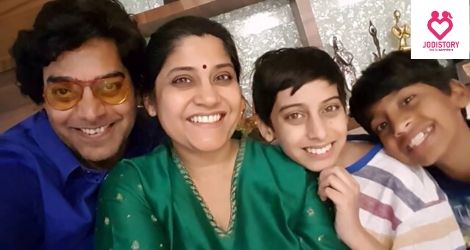 About Renuka's powers, Ashutosh said:
"She(Renuka) has loads of patience and capability to contain and endure my occasional hyperactive behavior. She is basically a very honest, simple, and positive person."
Conclusion
As we have famous phares that 'Marriages are made in heaven'. It seems to be true in the case of Ashutosh Rana and Renuka. They both are perfect for each other. Among the two, one is a great speaker and the other one is a wonderful listener. Till now, they both have spent more than 19 years in their marriage and are happy together. Ashutosh Rana and Renuka LoveStory is Mesmerizing. Comment down your views.