First dates are always high on our nerves as this is the only chance to make a good impression on someone you've been matched to. Going on a first date can feel like walking a rope where you have to impress without looking too worse and too desperate.
You can do nothing but just have to remain calm and composed because dating an unknown person is quite tough and sometimes we say things we normally wouldn't say but end up saying it due to stress. Only if the first encounter goes well there is a lot hope for the second, third or so on dates.
Also Read: BEST LOVE STORY HOLLYWOOD MOVIES YOU WILL ENJOY WITH YOUR PARTNER
That's why it's good to prepare yourself beforehand so that you can know what questions are too early to ask. First, you should look whether there is the spark of love or not. Avoid these ten annoying questions at all costs and you'll be well on your way to scoring a repeat meet-up. Just be clear of not asking too personal topics like politics, religion and money.
DON'T YOU THINK YOU ARE UNDER-WEIGHT / OVER-WEIGHT?
Everyone knows that women are self-conscious and insecure about their weight. Every girl would simply lie about their weight. If you ask this question in the middle of date that is even worse, you have just ruined the meal, and possibly the date itself is ruined.
HOW MUCH DO YOU EARN?
Asking a woman about her age and a man about his salary is counted as bad habit. And it is more controversial if you ask him this on a first date it would make you look hungry for money. This question sounds like for the whole life he is going to feed you.
HOW WAS YOUR LAST RELATIONSHIP?
No matter how curious you are about his past relationships but you should never ever ask about it especially not about the equation they had with their previous partners. This question would make them uncomfortable and they will encounter a terrific situation of how to share it with you.
DO YOU REGULARLY EAT THIS MUCH?
Asking people about their appetite is the worst question to ask anytime and imagine somebody asking this on their first date would definitely be a red signal and there is no chance to get hitched with the match.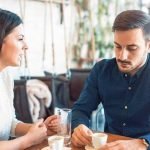 ARE YOU GOOD AT SEX?
This question is the most annoying question to be asked on the first date. This makes you look desperate to get intimate or you are enquiring how good his health is on the bed. Obviously, we are modern but imagine asking this question to anyone especially on the first date would get you nothing except biggest rejection.
SHOULD I TELL YOU ABOUT MY EX?
Like seriously, you are dating a person and you are annoying him by telling about your ex and his habits. You are on a journey to find a new chance and hope in life and still, you are carrying your past memories. If you are still in your ex's memories then why are you sitting on a date with this new fellow? This question would definitely make your partner uncomfortable.

YOU ARE TOO CUTE, ARE YOU REALLY SINGLE?
Hey, wait for a second! This cheesy pickup line is of no use because if he/she is sitting in front of you then definitely they are single. Rather compliment them in a positive way which would actually look like a compliment than a comment.
WAS I AN ACCIDENTAL RIGHT SWIPE ON TINDER?
If you are an accidental right swipe why would he/she still come on a date with you and even if it is true why would they tell you this?
Also Read: 10 THINGS WOMEN SAY VS WHAT THEY ACTUALLY MEAN!
Obviously, they don't want you to feel upset about it if it's an accidental meet. And by asking this question you are making him in a confused state of mind.
WHO IS GOING TO PAY FOR THE DATE?
Asking who is paying for the date entailed is just awkward. Firstly both should take an initiative.
DO YOU WANNA MARRY ME?
Asking for a lifelong commitment would make anyone a bit unstable on the first date.
Also Read: 12 WAYS TO MAKE SURE YOU NEVER GET FRIENDZONED !!
Give time to your partner so that he/she know you. Don't just puke in his thoughts.