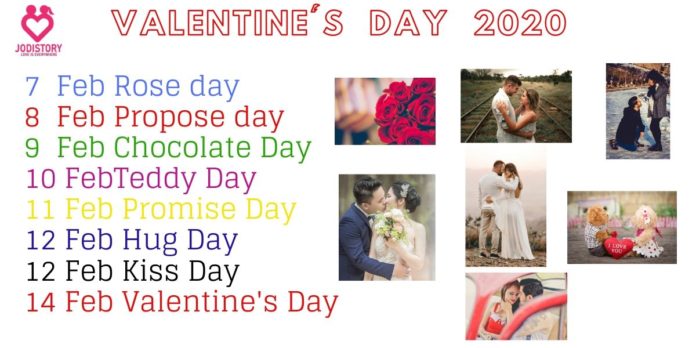 Valentine Day just a step away. The season of love is coming. Lovers across the globe are waiting for Valentine's Day week very romantically. Well you have planned your Valentine weekend from Rose Day to the final day. But getting confused which day is celebrated on what date.
Valentine's week is a festival of lovers. They express love, feelings, emotions, affection to a life partner. Love has many colors. And true lovers like to celebrate it in various romantic shades. From propose to kiss to giving teddy.

Generally we have confusion regarding Valentine's week. We basically forget that on which day to celebrate Teddy day or hug day. Let's have look one by one on a single day off Valentine week
Valentine's week has 8 days. And each day has its own importance for lovers. Generally it starts on 7 February and ends on 14 February.
7 February Rose Day
It is the first day of valentine week. Lovers on this day give roses to someone whom he loves. And express the emotion, feeling, Romance, affection with a rose.
Obviously red rose is a symbol of love. Keep in mind roses are in many colors. So if you want to start a friendship give a yellow rose. But if you have feeling, more than a friend then go for a red rose.
8 February propose day
Already you have expressed the feeling to your crush on Rose Day. Now you get another chance to confess your feeling again on the propose day. Go to your crush and say I LOVE YOU.
The propose day is a romantic day for a single person. Because on this day many single people got a love partner. Well, many single people left disappoint on propose day also. But not to be a sad wait for another propose day dear.
9 February Chocolate Day
Don't you think chocolate is a sweet way to win anybody's heart? Of course it is. That is why the third day of Valentine's week is a chocolate day. Already you proposed your love partner.
Now it is time to celebrate the romantic feeling with some sweetness. Get delicious chocolate and add sweetness to your relationship. And make your chocolate day memorable
10 February Teddy day
We want sweet and cute relationship just as teddy. That is why the fourth day of valentine's week is celebrated as Teddy Day. Bring a smile on your partner face by gifting teddy. Show your love, give a cozy teddy. So that your partner may hug teddy and remember you. Isn't it so romantic gift?
11 February promise day-
The promise means a lot in a relationship. The promise has its own meaning and significance on this day. This day means for you is to to make a promise from your partner.
Promise to never leave him her alone and we'll be together forever. Make your promise by giving handwritten notes or flowers.
12 February hug day –
The best way to express emotions, feelings, and affection is hug. Hug is a best healer. 6th day of valentine's week is celebrated as a hug day.
Express your emotions by giving a warm hug. The hug of partner gives a comfortable and secure feeling. So what are you waiting for? Go ahead and hug your partner.
13 February kiss day
The intimate day of valentine's week is, of course, kiss day. Already you have expressed your feelings of affection & emotion. It's time to come close to your partner.
Nothing is better than a kiss to show your love. Give your partner a sweet kiss on lips and forehead. It makes your partner feel romantic, respectable and Secure.
14 February Valentine Day-
Finally, the day has come which you have been waiting very eagerly. It's 14 February your favorite Valentine Day has come. Do not miss the chance to celebrate it with your love partner.
Take one day off go for a long drive, restaurant, or evening walk. Share your feelings spend some quality time and make this Valentine Day memorable.
Source-indiatoday