It's true that love remains a complete mystery. Even Science has not been able to explain it and this won't be wrong if we say that Mathematics cannot predict it. Poets are busy using beautiful words to personify it. Even Plato's words have never sounded truer, "Every heart sings a song" We are all looking for love around us but lucky are those who find it at the right age. At any given moment we hope to find it. And that's what true love is.
Being a girl like everyone else she had high ideals for her future husband. With a dream full of depictions of him in her eyes. She would spend endless hours pondering what her future husband would look like. Would he have black or brown eyes? What would they name the child in the future? How will she decorate their house?
Also Read: AISHWARYA AND SANKET LOVE STORY: INDIFFERENT LOVE STORY
She was always busy dreaming about her Prince Charming who would just enter her life like a pleasant blowing wind and carry her away to their wonderland. This seems to be like a fairy tale isn't it? But this is the true love story of our couple. Let's find out what's so magical in their story.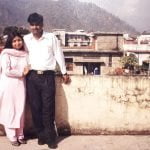 THE EXTROVERT AND INTROVERT
Khusha was a pretty, bold and adorable girl with glittering eyes and shimmery face. She was a girl ready to take up all the challenges and was also able to make difference between right and wrong, her maturity level was very high.
She was born into a family of highly literate kshatriyas. With blooming spirit she entered college for doing her graduation and wanted to explore her life but who knew that she would rather end up finding her soulmate.
Dinesh was a handsome man with an attractive, tall and robust personality. He was the secretary of student's union in Khushi's college and was born to a Hindu Brahmin. He was a man that every girl dreamt of having as a life partner but he was quite shy and introvert. And this became a hurdle for him in dating girls and was always away from such emotions.
BEGINNING OF A LOVE TALE
Khusha was a fresher and like every other college, their college also had a ragging practice. She went to the secretary of the student's union to complain regarding this bill treatment against fresher's. This was where she met Dinesh for the first time.
She was highly impressed by his personality and later on when Dinesh took action against those who were doing ragging she totally crushed upon him. During presidential elections, he was requesting for votes where Dinesh and Khusha had a second encounter where their eyes spoke everything that their lips cannot.
Also Read: THE STORY OF TWO YOUNG GIRLS, FRIENDS FOR 13 YEARS!
Being her senior Dinesh used to give her tuitions and they used to spend a lot of time together. Suddenly one fine day he proposed her for marriage and without thinking about the consequences they made a commitment to each other. Now that's where the road blocked for them.
CONQUERING THE CHALLENGES
Belonging to different casts, it was sure that this was not going to be an easy journey. Khusha tried to convince her father to meet Dinesh at least before making any judgment. And on the other side, Dinesh was trying to convince his father to meet Khusha once.
Also Read: MEN CAN ALSO BE HARASSED: WE ARE MEN SO WE ARE WRONG ??
His father agreed. Dinesh and Khusha used to receive threat from their respective communities. But their strong determination and promise to stay together always proved to be successful for them.
THE TREATMENT THAT WON HEARTS
One day when Khusha's father got a heart attack, Dinesh was taking care of him like a son and this was what melted Khusha's father. He accepted Dinesh as his son-in-law and happily agreed on their marriage.
HAPPILY EVER AFTER
Now it's been 18 years and they are blessed with a beautiful daughter. This little princess has brought happiness in their lives and they named her KHUSHI. They are still sailing in the same boat of love and care. Their romance has reached up to new heights and they make every day special for each other.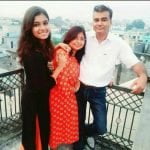 You can't give up on someone because the situations were not ideal but you should try to conquer it and make it worth. We should not give our stories a happy ending rather we should give a happy middle so that it would never end and the saga of love continues. Love has the power to conquer and together you can be a warrior.
Want to publish your love story?
Ping us on FB
https://www.facebook.com/jodistorycom/