All of us are familiar with the incredible love stories of famous celebrities!
This time I present to you a story of a young common couple, who are not at all common.
But a story as special and better than the celebrities!
Share Your Love Story

It was the night of Christmas. 25th December, 2016.
Aishwarya Sakharkar, a gorgeous, simple girl, residing in Mumbai, remembers it vividly as it is one of the most important dates in her life.
Also Read: Radhika Apte & Benedict Taylor Love Story: I don't have a boyfriend, because I am married
It was a normal late evening for Aishwarya.
She spent it by gazing at her social media profiles.
Call it Facebook, Instagram, WhatsApp, she had them all!
As obsessed she is with herself and her thousands pictures in her phone, she randomly uploaded one on her Instagram story.
Little did she knew that uploading this picture could turn her fate in a positive direction.
It was just 12:15 am, when he messaged her directly on Instagram, complimenting on her picture.
Aishwarya was almost drowsy! But thank goodness she didn't sleep!
In no time, the message was opened, accompanied by butterflies in her stomach.
It was from Sanket Patil.
A charming resident of Mumbai.
To her surprise, she noticed that Sanket was the same guy whom she was stalking since months!
And you all are aware of the heavenly feeling you get when your Crush compliments you! Right!?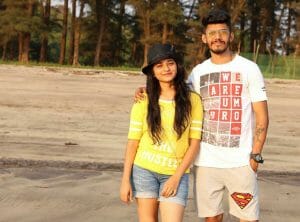 Well as for Aishwarya, she was on top of the world!
Santa Clause just a myth? Well, Aishwarya disagrees!
It was just on the eve of Christmas that their journey of everlasting love begun..
After thanking Sanket, as witty she is, she continued the conversation by asking him cheesy questions.
Late night conversations are so authentic! Aren't they?
Filled with romance, the dark sky, the twinkling of the stars and two great lovers!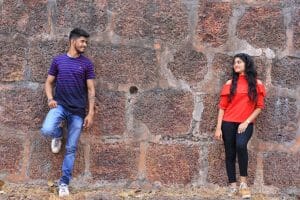 After chatting with him for 2 hours, Aishwarya confessed to him that she's been having a crush on him since a very long time.
As soon as she confessed her fondness towards him, to her amazement, Sanket reverted the same!
They both had been stalking each other since a very long time.
Also Read: Love Story Of Ravish Kumar: A Tale Of Love
And maybe that's what Fate is.
Couples are surely made in heaven, and this prologue was surely heavenly!
It was Aishwarya, who asked Sanket out for a date.
By breaking the societal Stereotypes, she proved the world that she is one hell of woman!
Kudos to you girl!
Such an unique story it is, it obviously had it's charm.
They met the very next day for a date, which Aishwarya had initiated.
Worli Seaface, their Lovers point.
And eventually that became their place of devotion, and from that day it has always been their favourite!
As sweet as Sanket is, he always treats her like a princess and always gifts her a Bournville, whenever they meet!
Adorable. Isn't it?
As days advanced, so did their relationship.
Fights, drams,everything was spotted.
But their love for each other suppressed them all!
They soon completed a year on 26th December, 2017.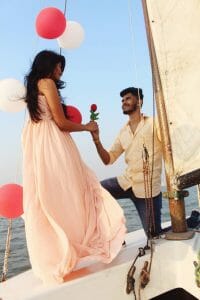 Can you even imagine what plans Sanket had formulated?
They celebrated their anniversary in a boat, in the middle of the Arabian Sea, in front of Taj!
Phenomenal. Isn't it?
And right in the middle of the Sea, Sanket once again manifested his feelings to the one stunning girl, whom he loved more than anything!
Going down on his knees, he presented her a diamond ring which sparkled more than the stars!
I had no other option but to say yes,afraid that if I say no he would have thrown me in the sea! Haha just kidding.. "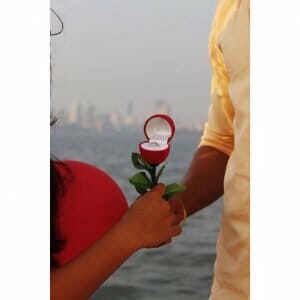 Sanket is very thankful to God to get a wonderful girl like Aishwarya.
They both are literally perfect for each other!

We all have heard about Co-incedences.
But have you heard of a plausible situation where your birthday and your soul mate's birthday falls in same month! Adding to it, just the next day of your own birthday.
Aishwarya and Sanket both celebrate their birthdays on 13th and 14th of October, respectively.
How fantastic it is, to cut your own cake on a day, and cut your better half's birthday cake on the next day.
Ain't it?
Before dating Sanket, Aishwarya never cared to wish him, as he was a complete stranger.
But this year, she wanted to grab the opportunity and make his 23rd birthday the most momentous.
She gifted him 23 gifts and felt blessed, as the delectation on his face said it all!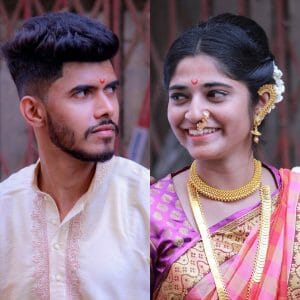 Even after completing more than a year, they feel that it was just yesterday that their relationship blossmed to such an extent.
Every night, without fail, they manage to have a video chat.
That's their way of saying good night.
And making each other believe that no matter how far they reside from each other, they're always close to their hearts.
Also Read: Love Story Of Legendary: Sridevi & Boney Kapoor
Aishwarya still remembers their first Valentine's Eve, which they celebrated, by gifting each other cute gifts and expressing their love by cute little gestures.
But they don't care about a Valentine's Day!
Their love and care for each other is enough to make every day, and every minute of their life special.
We both have similar tastes,hobbies,likes,dislikes,etc. This is the plus point of our relationship.. "
Sanket has never left any chance of making Aishwarya that she's the perfect girl for him.
He always is in search of great places having ambrosial desserts, just because as crazy as Aishwarya is, she's totally obsessed with divine deserts!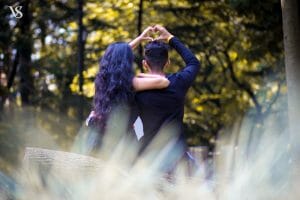 As everyone believes, girls are crazy in their own way..
Sanket has never stopped Aishwarya from doing stupid and deranged things.
Be it clicking selfies, creating a musical.ly's, linking the same twin clothes and going out for uncountable photoshoots, they have done it all, Together.

Also Read: How To Have A Happy Long Distance Relationship ?
And that's what matters, right?
Supporting each other in the minute of minute things in life.
Being there for each other when needed and loving each other unconditionally.
Having such a person in your life, makes your way of living so easy right?
Maybe it's because of the compromises and sacrifices one makes to keep the other happy, is what counts the most.
Aishwarya and Sanket share such amazing love! Touchwood!
We all wish these guys a perfect and never-ending journey of life