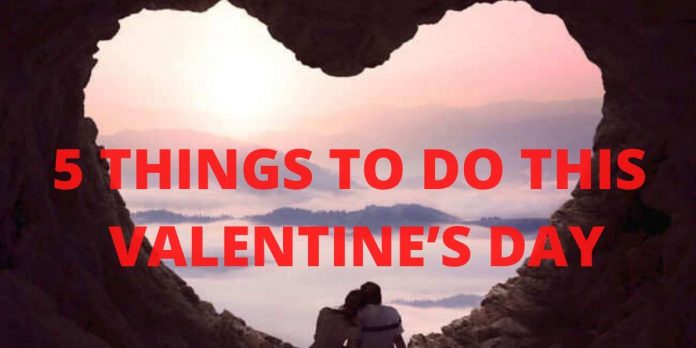 As love day is not so far in case you haven't been picking up on the hints of your partner. Let's talk about some beautiful ideas regarding the preparations of this beautiful love day. A loud and clear message for you is that Valentine's Day is coming so now put your seatbelts and fly with your partner with some really mesmerizing ideas for the special day.
How to do depends on you but what you can do is with us to make your cupid day more special let's add on some romance to it. If you haven't thought of any Valentine's Day idea here's something that you can do this Valentine and make your partner feel special and loved.
Also Read: 5 THINGS THAT HAPPEN WHEN YOU MEET YOUR SOULMATE
Love doesn't have to be well planned, all it takes some thoughtful ideas to make it beautiful. Make it different from all your regular days. The display of love is the sexiest thing of after all. If you really want to add spice to your Valentine's Day we have some really thoughtful ideas that can make your day memorable. Love is the most beautiful feeling in the world, it's essence cannot be removed. It's like a fragrance which remains with you for life long. Let's go through our Valentine's Day special checklist.
Travel to your favorite destination
Take a day or even an entire weekend vacation to your favorite destination. It would make your partner feel more free and special. Go to some really cool destinations and plan your vacation according to your beloved. Just make it your best moment to cherish life long.
Breakfast on bed
Whip up delicious breakfast in bed and spread it with love on Valentine's Day and enjoy it lounging in your bed. It will be a nice change from the regular days and would bring you both more close to each other. Make this morning different and exciting. This would take your partner on cloud nine.
Also Read: 10 RELATIONSHIP TRICKS THAT WILL MAKE YOU FALL IN LOVE AGAIN
Wine and chocolate for relaxation
Both wine and chocolates are delicious on their own, but even better together. Treat your beloved like a princess/prince and have a good shot of wine and chocolates together. While this makes your partner comfortable in your arms and dedicated poems and short messages to them.
Plan a date as you did first
Take things way back to where you first started feeling for each other. Plan a date but make it the same as your first date to cherish back the previous memories. Prepare everything the same as you did on your first date to bring back all those memories down the lane. Order some drinks and food as that one of the memorable night.
Also Read: 10 ANNOYING QUESTIONS YOU SHOULD NEVER ASK ON YOUR FIRST DATE
Cook together
A special home cooked food would taste better and if it is cooked by both of you would even taste best. Try out cooking food together and have lots of beautiful moments in the kitchen. This dinner would be the best than going out in the super busy restaurant. No chef skills required just a skill of romance can cook the tastiest food.