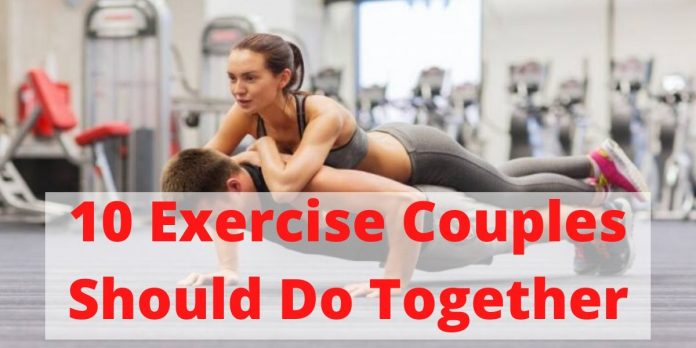 Last Updated on February 23rd, 2020
You would have tried definitely tried everything in pair, have you ever tried doing workouts together? Try it once as two is the magical number to do anything together. People workout better when they have a company to support and encourage them.
Couples doing workout together can set goals together and can stay fit for long. A study has also revealed that endorphin is secreted more during group workouts than individuals. Working out together makes the bond strong and fit between the couples. Trying something new with your partner could be more exciting and fun. Here are 10 workouts that couples should do together.
1. WEIGHT LIFTING TOGETHER
Instead of going to the gym alone why not go together? Try to lift the weights together and this could increase your workout stamina. By this, you can get the motivation to work more and more.
Also Read: 15 INTERESTING DATE IDEAS FOR COUPLES
By this, you can also get attached to the workouts without failing. You can also try a duo exercise that would increase fitness strength. You can also burn 270 calories in 30 minutes.
2. TRY DUO OR ACROYOGA
Duo yoga helps in strengthening both your bond and workout. Exercises that are meant to be done together such as double downward facing dog allows more stretch than doing it individually. These yoga tricks also require teamwork and trust in each other as it makes sure that you are in touch with each other. It is basically all about balancing on each other which burns 180 calories in 30 minutes.
3. ROCK CLIMB TOGETHER
Rock climbing is a more exciting thing that a couple should do together as it is both physical and adventurous part. Either indoor or outdoor by this way your partner get hold of your rope in both life and exercise.
Also Read: 5 THINGS THAT HAPPEN WHEN YOU MEET YOUR SOULMATE
This is perfect for communication and trust. In this one stays in the ground holding the rope and encouraging the other one who is climbing. It burns 450 calories in 30 minutes.
4. CIRCUIT WORKOUT
If the gym isn't your cup of tea then just use your body weights for workouts. Try couples calisthenics, find a kitchen timer and set it then try squats, push ups and planks. By setting the time you can try to beat each other's time and can create fun. It burns 360 calories in 30 minutes.
5. GO FOR A RUN
Cardio is better when done in duo so before running set destination and try to complete it together. Go to some good scenic locations with fresh air and proper path to run. You can also hop to the gym and can use the side of the treadmill by side. It burns 450 calories in 30 minutes.
6. MEDITATE TOGETHER
Try to relax by doing meditation together. In an open garden early in the morning just sit together and try to focus. This would help you both in gaining positivity and remove stress and tensions from your life.
Also Read: 10 RELATIONSHIP TRICKS THAT WILL MAKE YOU FALL IN LOVE AGAIN
In today's monotonous schedule you really need to keep yourself calm and composed so trying meditation is a good option to keep your body and mind healthy.
7. GIVE DOUBLES TENNIS A SHOT
If you want to make it more competitive then try playing a game together something like tennis or badminton. Have a doubles team with other couples and try to beat that couple together. By this way, your arms and legs joints could get the workout and you can also have fun together. You win or lose doesn't matter just do it as couples. It burns 310 calories in 30 minutes.
8. BIKE RIDE
If you both know how to ride a bike then go on a long drive and drive the bike turn by turn. This could increase your capacity and strengthen you. You can also go cycling together if biking is not perfectly suitable for you. By cycling, you can make your heartbeats run faster. By this, both your joints and legs will feel relaxed and stretched properly. This helps in burning 360 calories in 30 minutes.
9. SHAKE IT UP WITH SALSA
Heavy workouts aren't only used to stay fit even some shakeups can help. Try salsa dance with your partner which can be a physical decide in a romantic atmosphere. Do it under the guidance of an expert or trainer and make your bond more strong.
Also Read: 7 HARMLESS LIES YOUR GIRLFRIEND HAS PROBABLY TOLD YOU
You can learn something new together and can add spice to your relationship. It helps in burning 250 calories in 30 minutes.
10. SWIM TOGETHER
Try swimming together either in your house or in the gym if possible. Swimming is perfect for flexibility. This is the best way to make yourself fit and stress-free. You can enjoy it together by having some intimate moments together. It helps in burning 450 calories in 30 minutes.