Pakistani singer and actor Atif Aslam experienced love at first sight when he was a college student. Atif formed his music band during his college days which was one of the life changing stoke in his life. The same campus also gave him a chance to meet his lady-love Sara Bharwana.
Atif Aslam met Sara in University
Well, it was when Atif went to pursue his higher studies from Government University in Lahore he met Sara at the same university. Both could feel the essence of love.
Sara Bharwana is a school teacher as a profession. Her father was an ex-policeman in Punjab Police.The couple has been dating ever since they met.
They both belonged to Punjab, the wavelength matched even more. Though it was just the beginning of his music career, he always stayed committed to his girl.
Atif was simultaneously chasing two dreams- being a renowned singer and marrying Sara.
Also read :Love Story of Sania Mirza and Shoaib Malik: Love Knows No Boundaries
Even though their families were well aware of their relationship, they waited for eight years(courtship period).
Atif Aslam & Sara made love affair offcial
In 2012 the couple made the official announcement about their affair .They had to wait for their career and dreams to come true.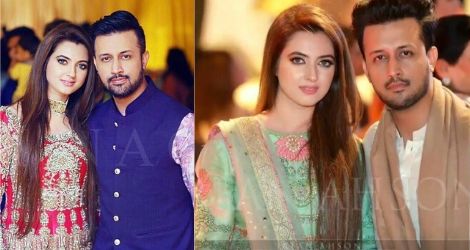 Irrespective of the long-courtship, the love-birds were sure of their lifetime commitment. Finally, after the consent of their parents. The long-time love-birds got hitched on 29th March 2013.The grand wedding was followed by reception. Atif Aslam love story is so musical.
Atif Aslam & Sara happy marriage life
Every girl dreams of having a guy like Atif after listening to his enchanting voice. Sara started accompanying Atif on musical tours, concerts and shows.
Just a year after their wedding, they were blessed with a son in 2014 whom they named Ahad. Their relationship stood the biggest test of time when Atif was busy making his music career and Sara had to look after the baby.
Atif has told in many interviews that Sara is a lucky charm for him and has been a big support system in his successful career.
They gave ample time and space to discover each other. They were fully committed and devoted to love.