Many say TRUE LOVE does not exist. Whereas some belief in TRUE LOVE. When you fall for someone feel for someone emotionally. It means you are in love. But if destiny brings you together. Then you became a lucky person to have TRUE LOVE. Today you are going to read TRUE ROMANTIC LOVE STORY OF INDIA. Let's start…
The true love story of Kartik Sahoo & Sapna Wahane began at Yahoo Messanger
It was 2008 when Kartik Sahoo was pursuing his MBA degree. There was no such social networking application Facebook, WhatsApp, tinder then. Kartik used to meet new people on Yahoo Messanger. Suddenly his eyes stuck on the name Sapna Wahane.
Do not know why Kartik felt some attachment at the name Sapna. He sent Hi, Hello. And Sapna also replied to his chatting. But stop thinking sweetheart. From the first chatting, the love story did not begin. It took two years for Kartik to met his dream girl.
Do not be lazy to scroll down the story. Come and enjoy the short romantic love story of Kartik & Sapna.
Must-Read True Love Story
For 2 years Kartik & Sapna were chatting without watching each other
In the beginning days of friendship. Being an innocent girl Sapna did not share her personal mail Id for chatting. But somehow Kartik as a true gentleman managed to gain her trust. Then they exchanged personal mail id for chatting.
During that time of Yahoo Messanger. It was not easy to chat like today. Every day Kartik and Sapna decide the time to meet online.
Both came online at the same time for chatting. They love to chat with each other on their computer. Android was on the testing period then.
No instant message, no notification. Both the so-called love bird came online at the same time after evening. Even after one year of chatting Sapna shared her passport size photograph to Kartik.
For Kartik she was a real girl as he imagined. Time flies, the day became weeks, weeks turned to months. And together month changed into the year.
In the meantime Kartik got his first job in a reputed hospital as a brand executive. Whereas Sapna was still looking for a job. And the story goes on.
Kartik & Sapna faced a romantic-heart broken situation
Stop assuming the love and breakup scene of Kartik and Sapna. Neither they proposed each other, nor they come across breakup. Actually both had another love partner.
Kartik x girlfriend
Although continue chatting for one year Sapna & Kartik exchanged mobile numbers. While in a job in Bengaluru Kartik started his new relationship with a Christian girl Alis.
They were happy with each other. But Alis decided to end the relationship. Because Kartik was a Hindu boy not a Christian. And also Kartik was simple man.
It was a heartbroken moment for Kartik. He was feeling lonely after a breakup. Although there was some soft corner in Kartik's heart for Sapna Wahane. But he did not express his feeling to her.
Sapna Wahane X boyfriend
When Kartik was in a relationship with Alis. At the same time Sapna was in a relationship with Sahil a Muslim boyfriend. Somewhere Sahil was over-possessive for Sapna. But Sapna loved him to the core of heart. That is why she ignored his rude behavior.
But Sahil wanted to convert Sapna into a Muslim girl to live together. That is why Sapna Wahane had to end the relationship.
In this way Sapna & Kartik became heartbroken at the same time. Somewhere it was God's plan to unite Sapna & Kartik after the breakup.
Kartik met Sapna after 2 years in 2010
Finally the day came Kartik has been waiting for. He requested Sapna to meet. Kartik caught a train from Bangalore to Pune. During the train journey Kartik did not stop imagining his dream girl Sapna.
When he reached Pune to meet his dream girl. On the same day Sapna had a semester exam of MBA. Being a stubborn Kartik gave Sapna two options. Whether to choose Kartik or Exam.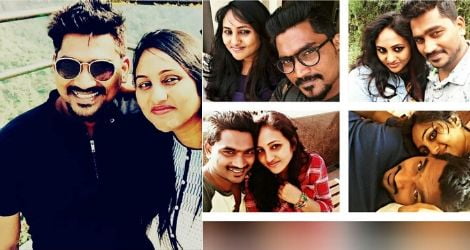 Obviously the pretty girl chooses Kartik. She left her exam. Because when it comes to love. It is only love and not anything else.
The couple spent time together. OYO was not available on those days. That is why Kartik and Sapna spent time together on the coffee shop, movie and exploring Pune.
Tragedy came in Sapna & Kartik life
Sapan loves Kartik and Kartik loves Sapna. But the main tragedy for lovers is family members, community and society. Kartik had to face the same issue to marry Sapna.
Kartik went to Nagpur(hometown of Sapna) he stayed there at hotel for 1 week. Because he had to talk to her parents for giving green signals to marry their daughter Sapna.
But Kartik did inform this to his parents. He first wanted to convince Sapna's parents. After 3,4 meetings everyone was ready in her family member for Love marriage.
But her father was not happy with the choice of Sapna. Be he was looking for a goom holding government job. Although Kartik was successful to convince her family. After 1 week he returned to Orissa and convince his family.
The happy moment came for Sapna & Kartik when their parents agreed for their relationship.
Kartik & Sapna Wahane happy marriage in 2013
Sapna was weeping because she got her love of life. And crying for another reason too. Now she had to leave her parents. The groom & bride took promises to leave together forever. Kartik Sahoo married to Sapna Wahane on 14th August 2013.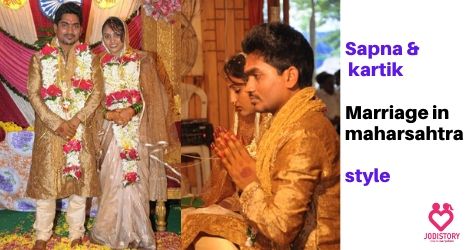 The day became memorable for both the couple. It was a very simple wedding for love birds. The marriage took place in the presence of selected family members and friends.
True romantic love story of India. Kartik & Sapna married again after 6 months!!
Yes it happens only in India. You can marriage with the same person multiple times!! Actually Kartik belongs to Orissa. But he married a Maharashtrian girl.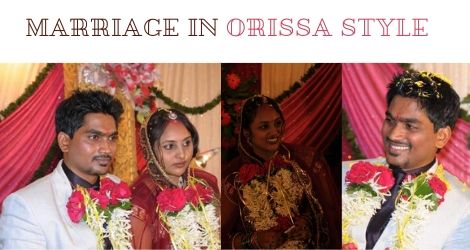 That is why Kartik's community was urging them to remarry according to their tradition. Kartik & Sapna became groom and bride again after six months of marriage. It was all fun and memorable moment for the love birds.
Now Kartik has set up his own advertising company BRANDLAND with wife Sapna as a business partner.
Must-Read Love Story
Kartik & Sapna child
After six years of marriage Sapna gave the best gift to Kartik. Sapna gave birth to a son in August 2019. They named the baby Ksharvil.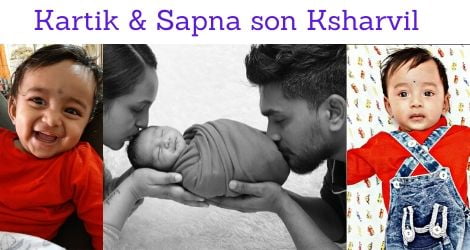 I think you enjoyed the True romantic love story of India. Do not you this their love story gave you the inspiration to fall in love again and again?
Do comment me your feelings for TRUE LOVE. And do not forget to share your love story (if any). Mail me your love story at nishat@jodistory.com